Jaisalmer – Things to do and Places to see
A massive fort lolls on the barren hill top under the endless blue sky. Below stands the city smothered with yellow honeycombed houses. Narrow streets fringed with ancient shops and ornate sandstone buildings open into bustling markets and opulent palaces. Every scene in Jaisalmer makes you feel as if a time warp has chucked a city from the Arabian fairytales to the present day.
Though Sush and I always had our hearts set on the desert of Jaisalmer, it surprised us in so many other ways. So here we are, back after 3 fulfilling days in the golden city and penning down this list of things to do and places to see in Jaisalmer.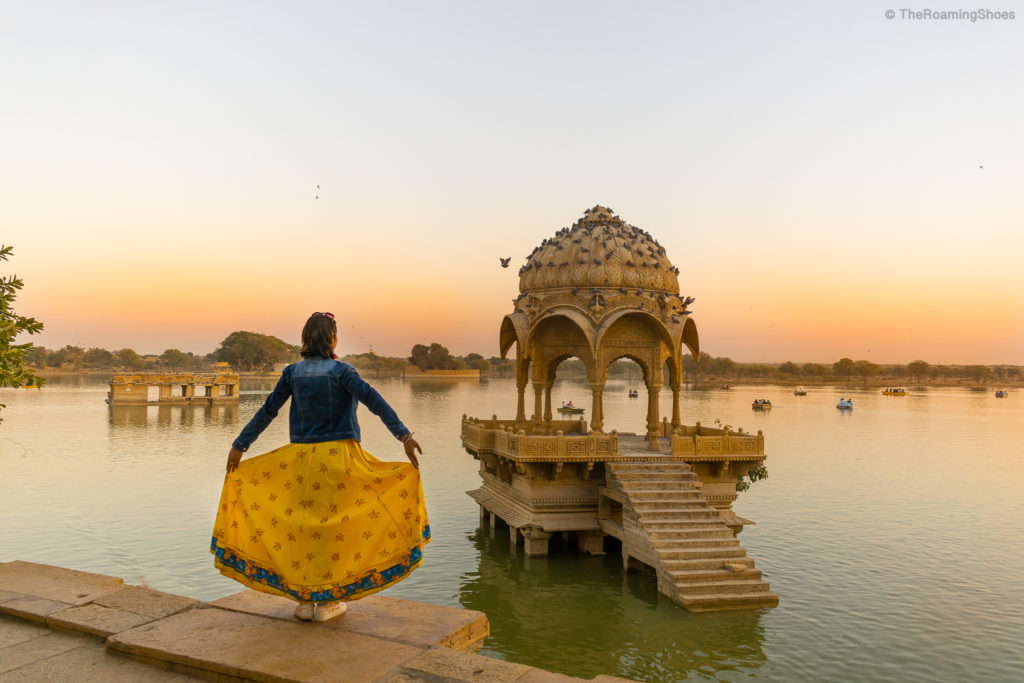 The Desert
No trip to Jaisalmer can ever be complete without a rendezvous with the desert. Indeed desert is that one element which makes Jaisalmer the most coveted destination in Rajasthan. So spend at least a night camping in the desert and indulge in some adventure in the day bashing the expansive golden dunes. Embrace the evening with a yon orange sunset and be whisked away to the era of Maharajas with cultural programs under a star studded sky.
Read more about desert camping in our detailed article here.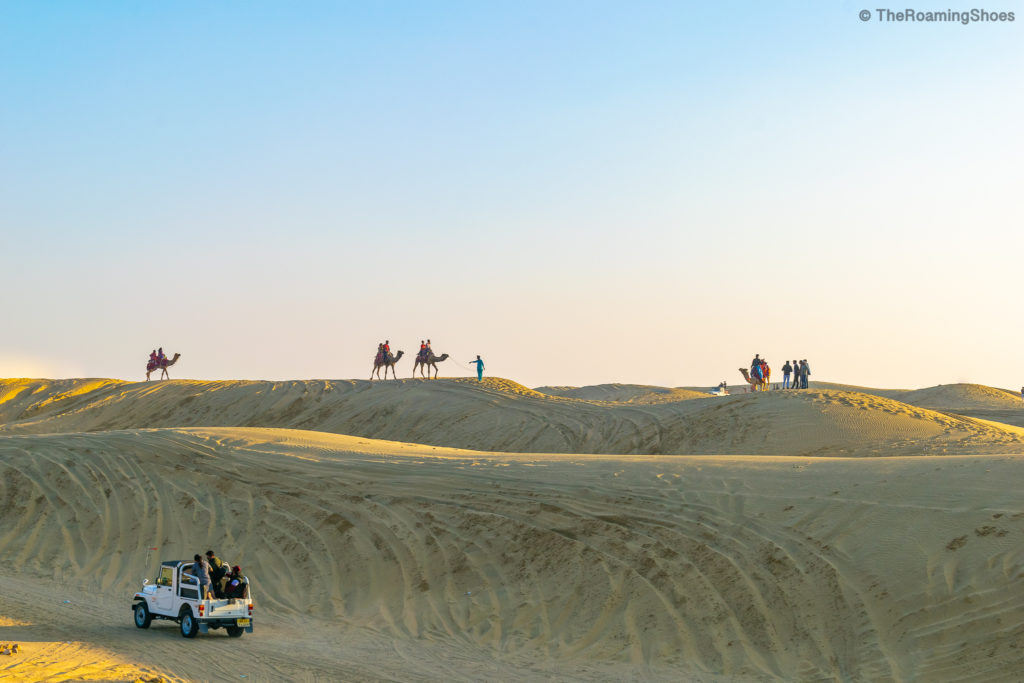 The Living Fort
One monument that is hard to miss in Jaisalmer town is the Jaisalmer Fort. Perched on a hill top it literally follows you everywhere you go. Unlike any other fort we have visited so far, this is a bustling fort with many people still living inside it's walls since generations. With shops, cafes, temples and  stunning local houses, the fort feels like a different world in its own. 
The entry to the fort is via cobbled streets lined by indigenous handicraft shops. As you enter the main chowk area, a myriad of colourful shops and meticulously carved facades will welcome you. And the finest masonry on the walls, windows and overhanging balconies inside the fort will definitely leave you spellbound. Check out the fort museum which has an interesting collection of artefacts and provides an insight in to the life of the kings. Then head to the terrace of the museum for the most incredible views of the city. And yes, do not forget to visit the Jain temple inside the Fort which is a stunning piece of architecture and totally not to be missed.
Know before you go
The area of the Fort is huge and needs 2-3 hours of time. So expect a lot of walking.
If you are time bound, then we recommend taking a guide to cover the places of interest inside the Fort premises. The charges of the guide are reasonable (INR 100-200) and they provide tons of information about the Fort. Do check that the guide you are taking has a valid licence.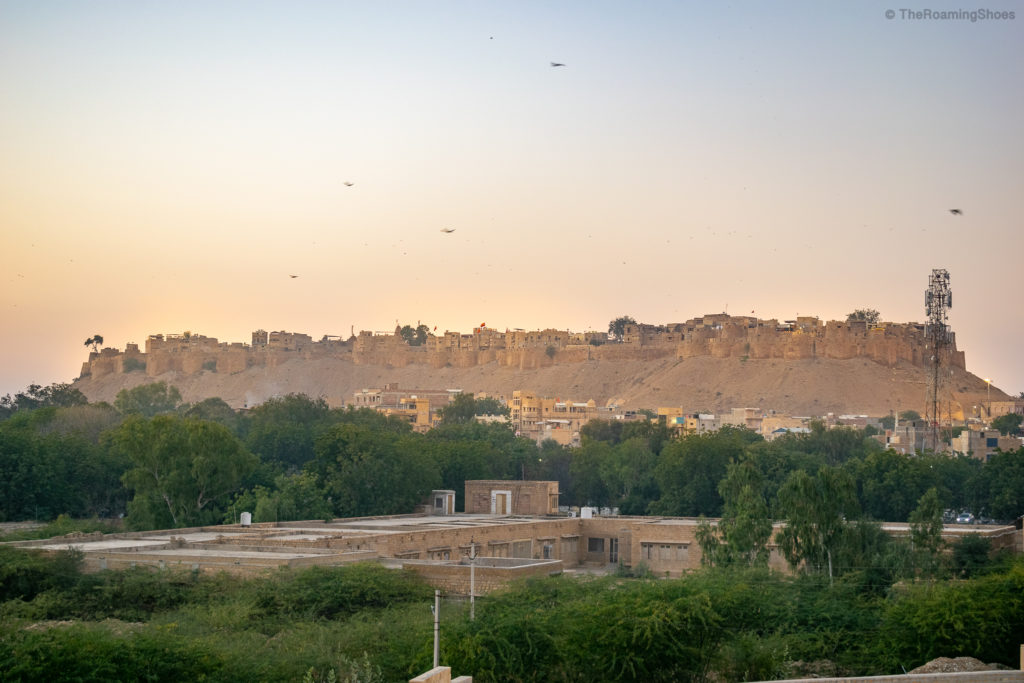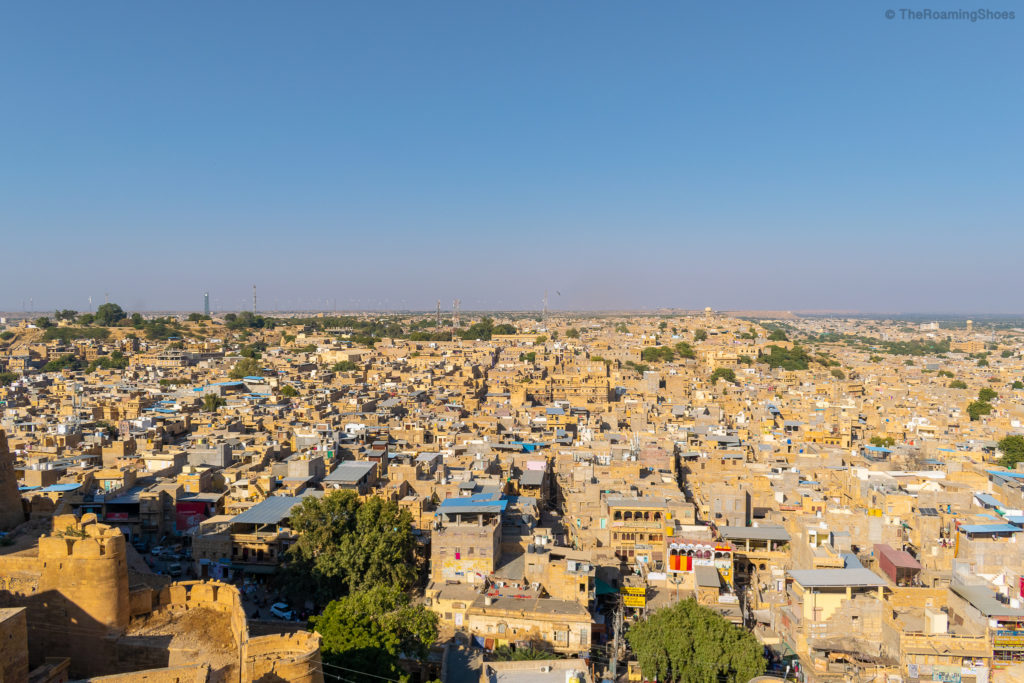 The Havelis of Jaisalmer
The Havelis of Jaisalmer definitely need a special mention. Being home to some affluent merchants in the past, the city is scattered with many palatial Havelis. Made out of yellow sandstones, these Havelis emit a vibe of elegance and grandeur with beautifully carved facades, oriel windows and ornate doorways. There are 3 popular Havelis in Jaisalmer – Patwon Ki Haveli, Nathmal Ki Haveli and Salam Singh Ki Haveli. But of all the three, Patwon Ki Haveli is the most impressive one. This is actually a cluster of 5 Havelis placed at the end of a narrow lane. Spare at least an hour to explore this one.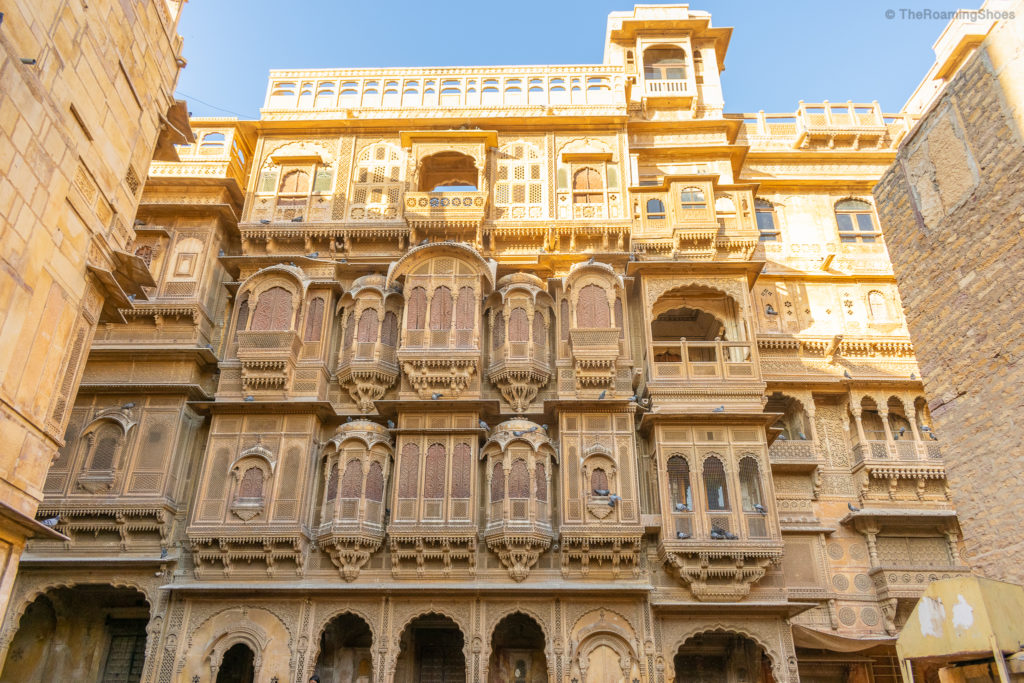 Bada Bagh
A cluster of royal cenotaphs sitting on a hill with a backdrop of massive windmills – Bada Bagh is a juxtaposition of past and present in a single frame. The cenotaphs made of sandstones are carved skilfully and glow like gold in the sunlight. The place is incredibly beautiful, especially during sunrise and sunset. No wonder it has appeared in many Bollywood movies and is a favoured location for photoshoots.
Bada Bagh is located around 6-7 kilometres away from the city. But you can easily get auto rickshaws or taxis to reach here. Keep at least an hour or two for visiting this place.
Gadisar Lake
Everything in Jaisalmer has a royal feel to it and Gadisar lake is no different. A huge man made lake surrounded by finely carved chhatris, shrines and a magnificent arched entrance makes this lake one of the most unique attractions in the city. The elegant structures erected inside the lake and Ker trees popping out at places almost make it look alien.
The best time to visit the lake is during sunrise or sunset when the lake looks the most surreal. We definitely recommend to opt for the boat ride where you can see the structures inside the lake up close and enjoy panoramic views of the lake and the surrounding.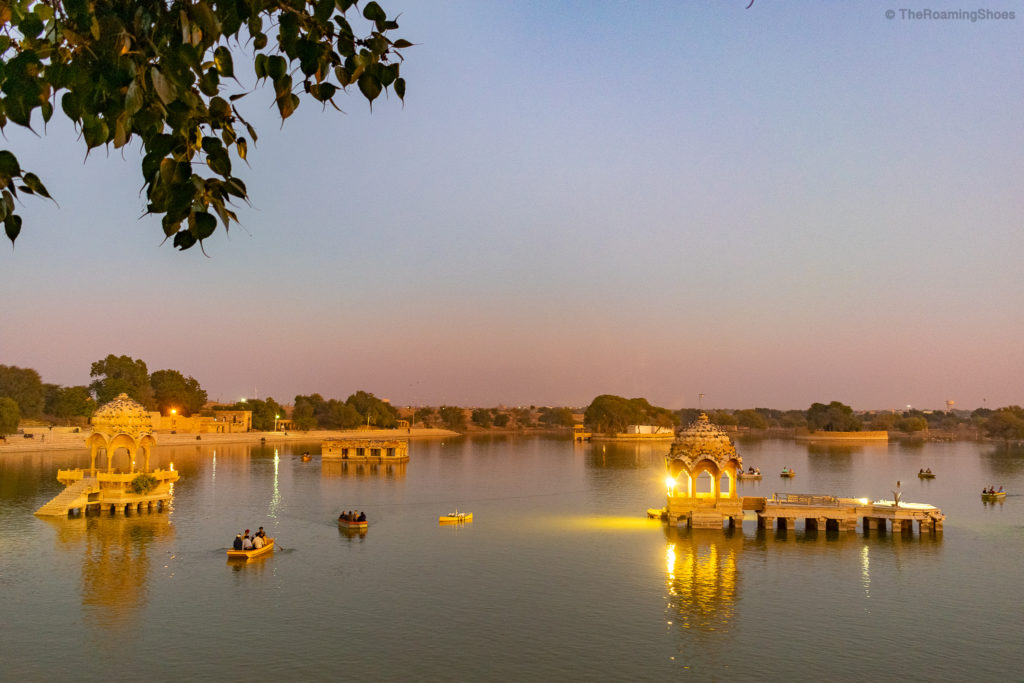 Rooftop restaurants and sumptuous food
The streets of Jaisalmer are bristled with dainty restaurants and cafes. Many of these restaurants have a traditional rooftop setting with sweeping views of the Golden city. So when you are done exploring, head to any of the rooftop cafes to chill with a cuppa during sunset or enjoy a romantic meal while admiring the nightly lit Jaisalmer Fort. And when it comes to food, do not forget to try the extravagant Rajasthani Thali and some authentic local dishes such as Daal Baati Churma, Gatte ki Sabji, Ker Sangri (this one is my favourite😄 ) and Pyaaj Kachori.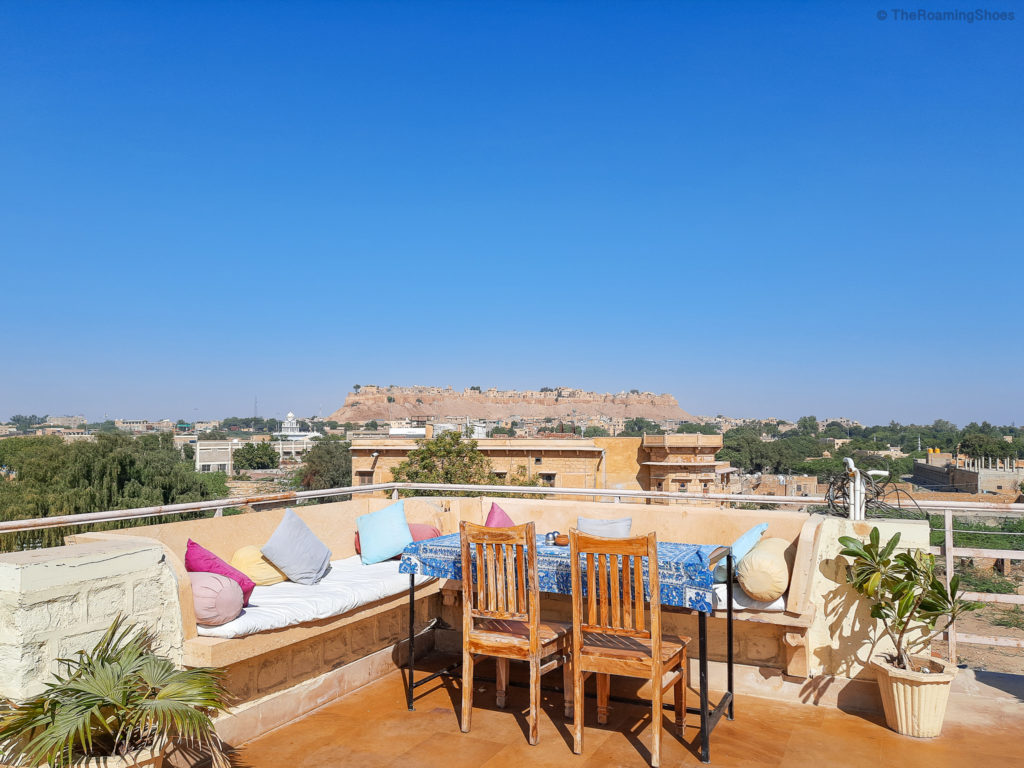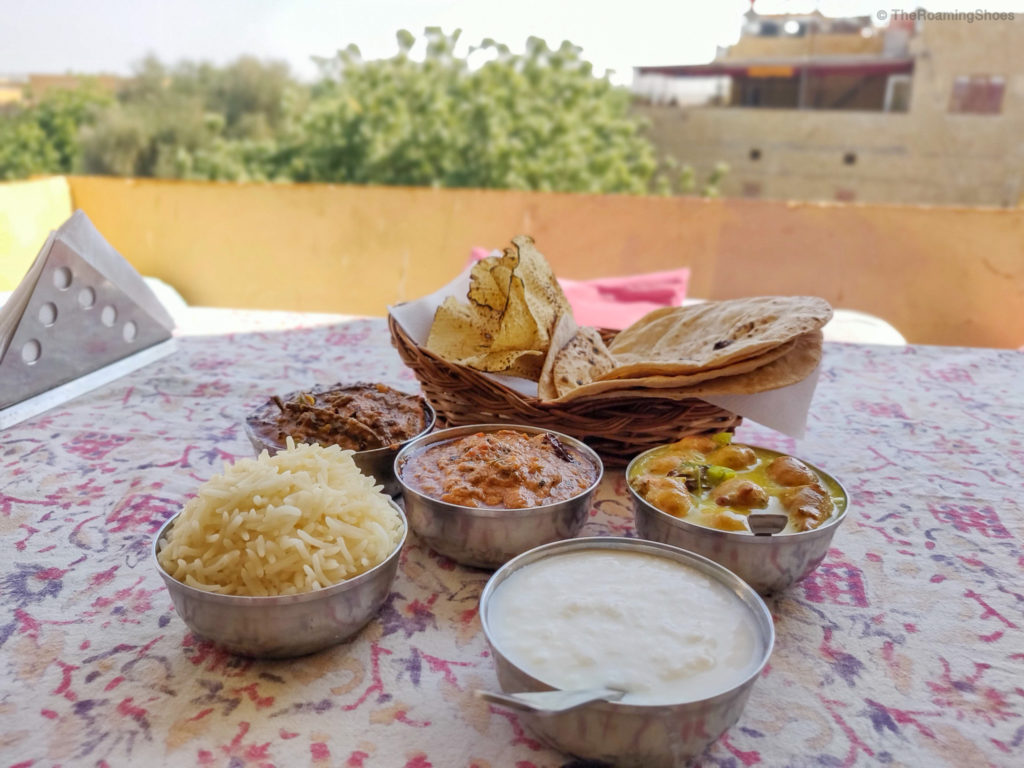 Colourful markets
Jaisalmer provides the perfect excuse for shopping on the trip with its colourful and rustic street markets. Small and midsized shops crammed with local handicrafts and textiles tempt visitors with a riot of colours. Here you will be spoilt for choice with traditional clothes and shoes, elegant silver jewelries, embroidered bedspreads and a whole other range of knickknacks.
There are a couple of such local markets where you can visit. But if you have not factored in shopping time in your trip, then Manak Chowk is the place for you. This bustling market is right outside Jaisalmer Fort and is the perfect place to pick a few souvenirs. We loved the patch work bedsheets, block print kurtas and bohemian jewelries from the small shops around the Fort. The shops near Patwon Ki Haveli are also very reasonable in terms of prices.
The following is to give you an idea of the prices so that you can shop happily without burning a hole in the pocket🙂.
Price Range
Short cotton block print kurta for gents – 300 INR
Small size sling bag – Rs 200
Artificial jeweleries (earrings and neck pieces) – 100-300 INR
Patchwork Double bedsheets – INR 900 onwards
Patchwork cushion covers – INR 100-150
If you are taking a guide for Jaisalmer Fort, they would normally take you to the shops around the fort  and indirectly push you into buying things. Avoid buying from these shops as we found the items fairly high priced. Instead go to the smaller shops on your own, check and compare the prices before buying.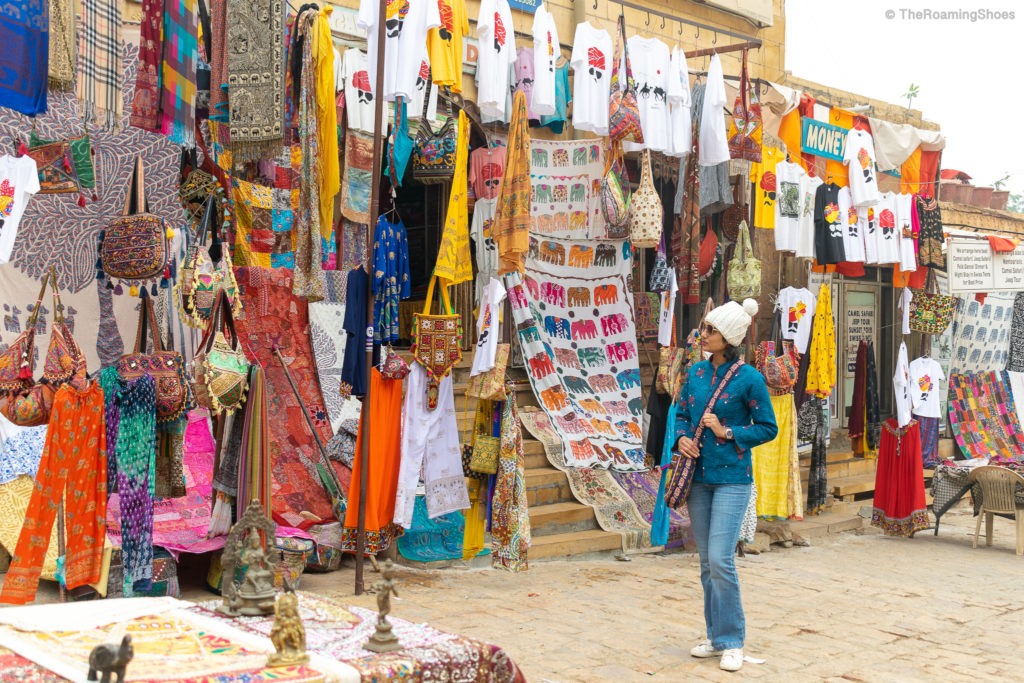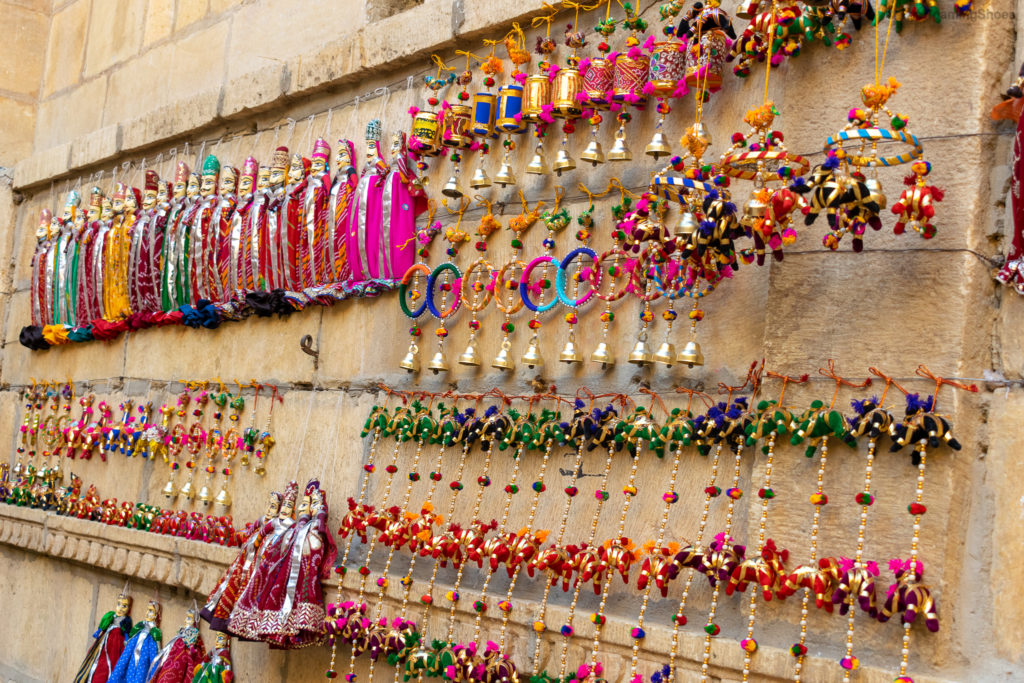 The Golden people of the golden city
We have always felt the most important part of a trip are the people we meet or interact with. And the locals of Jaisalmer will definitely make you feel warm and fuzzy with their conviviality. Starting from the taxi and auto drivers to shop owners and service staff – everyone we met on the trip were extremely helpful and nice. So talk to the locals and who knows you may meet that boatman who would tell you unheard tales about the city or that jolly shop owner who would direct you to the most gorgeous sunset point nearby. You may even meet that kind chai wala who understands your love for tea and serves you a large glass of ginger tea on a cold morning 🙂.
Where to Stay in Jaisalmer
Jaisalmer has no dearth of options when it comes accommodation. There are many havelis and heritage houses turned Hotels that provide accommodation for different budget ranges. If you plan in advance, you can easily book a decent accommodation in a Heritage Hotel ifor as low as INR 2500-3000. But whatever kind of accommodation you choose, we recommend finding a place near to the Fort Area for accessibility and convenience.
We stayed in Hotel Boutique Helsinki. The hotel is a beautiful mid range property located conveniently at a distance of approx. 1 km from the Fort. The rooms are traditionally designed, spacious and well equipped along with a spacious and tastefully done bathroom. We stayed on the 2nd floor where the balcony opened to the vast open area with greens. The restaurant and food were okay though the view of the Fort and the city from terrace were lovely. The hotel also arranged for auto and cab for our sightseeing and airport transfer at reasonable prices. All in all, a comfortable and cozy place to stay. But if you are looking for a place with open space to chill and want to spend more time eating and relaxing, then there are better options in the city.
How to Reach Jaisalmer
Jaisalmer has a small airport with limited flights operating to some major cities by SpiceJet. Otherwise, you can book a flight to Jodhpur and then take a cab to Jaisalmer.
The distance from Jodhpur to Jaisalmer is around 280 Kms and takes 4 – 4.5 hours to cover. From Jodhpur, cabs charge around 4500-5000 INR depending on the season and your drop point. Like if you want a drop in the desert camp of Sam Sand Dunes which is further away from the main town, it will cost you another 800-1000 INR more compared to a city drop. Try and find a cab returning to Jaisalmer as it would be cheaper compared to a Jodhpur based cab.
The city is also well connected by trains.
Getting Around in Jaisalmer
Auto rickshaw or tuktuk is the most convenient option for getting around in Jaisalmer. They are easily available and charges are reasonable. You can either reserve them point to point basis or for covering a few attractions together.
Bike rental is also available near the fort area.
That's it from our end on Jaisalmer. I hope we have convinced you to visit the Golden city and experience everything it has to offer :). For any queries, leave us a comment and we will get back to you as soon as we can.